Patches
Patches on cables.gl can be private, unlisted or public, pick one of the three for the level of permission
and collaboration you deem appropriate. We strongly encourage making your patch public to share your work with the community!
---
Public patches
You can share patches with the whole community by making them public in the settings of the patch. There is a few restrictions on which
patches can be published, depending on which ops are used in the patch.
Public patches can be:
---
Unlisted patches
You can set patches to "unlisted" visibility. Users need the URL of the patch to access it. Rules are the same as
for public patches (see above) but they will never appear in any of the lists like "Top Patches" or "Featured Patches".
So, rules are:
Private patches
Once you create or clone a patch on cables.gl it is marked as private. This means:
---
Shared patches
There are several ways to share patches on cables.gl. Depending on your usecase or audience, pick any of the following:
Collaborators

By adding other users to your patch, you grant them "read only" or "full access" to your patch. Use this to work on patches with other people.
Users with "Read Only" access can:
Users with "Full Access" can do all of the above, and:
Teams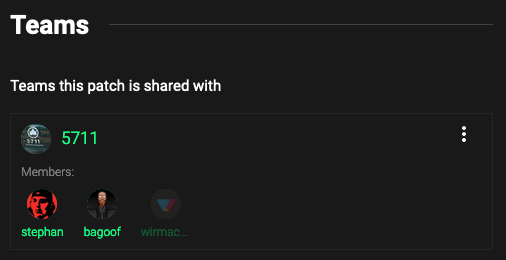 Using the "Collaboration" tab in the patch settings you can add one or multiple teams to the patch (if you have "Full Access").
Adding a team to any patch will:
---
help cables get better and edit this file on github