Export a ZIP file
Select the "DOWNLOAD" option in the export dialog: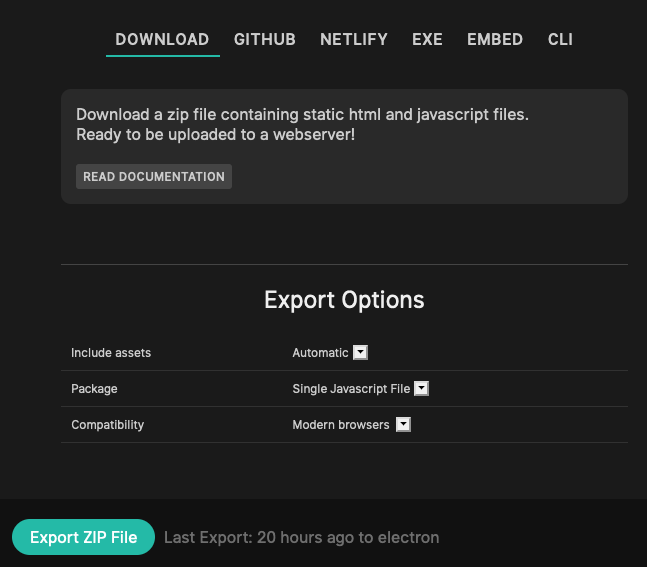 If you just want to download your patch and put it on any webserver that you can upload files to, this
is your best option.
The resulting zip-file will include an example index.html to make integration easier, putting all of this
on a webserver should give you a running patch in no time.
Video Tutorial
Export Options
You can choose how the contents of your export should look, the defaults should be fine for almost everything.
Include assets
If your patch uses uploaded files (textures, audio, data, ...) choose one of the following options to have
these files included in the export.
Use "All" if you are generating filenames on the fly (iterators, arrays, ...) to make sure all files are available in the Export
Automatic: Tries to guess which files are used in the patch and includes only used assets.
All: Includes all the assets uploaded to the patch or referenced in there, this is the safe option.
None: Does not include any assets in the export, smaller download but some things might not work in the export
Package
Single Javascript File: packages and minifies everything into one single javascript file to include
Multiple Files: will keep the patch configuration, your code, and core code in seperate files
Compatibility
Modern browsers: exports your patch as is
Old browsers: uses babel to try make your patch run on older browsers, in general should not be needed anymore
---
help cables get better and edit this file on github